Choose the best perks for the one-handed skill in Mount & Blade 2: Bannerlord to make it even better.
Mount & Blade 2: Bannerlord's skills and perks let you try out different builds and play as different characters. You can make characters that are good at fighting, being a leader, using tactics, making money, or doing many other things that the game lets you do.
One of the best and easiest combat skills, especially for new players, is the one-handed skill. You can use a shield with your one-handed weapon for extra safety. When you level up your one-handed skill, you can choose bonuses that make the skill itself or other parts of the game a little bit better. Usually, you have two choices for each perk. Here are the ones that help your character the most, on average.
Wrapped Handles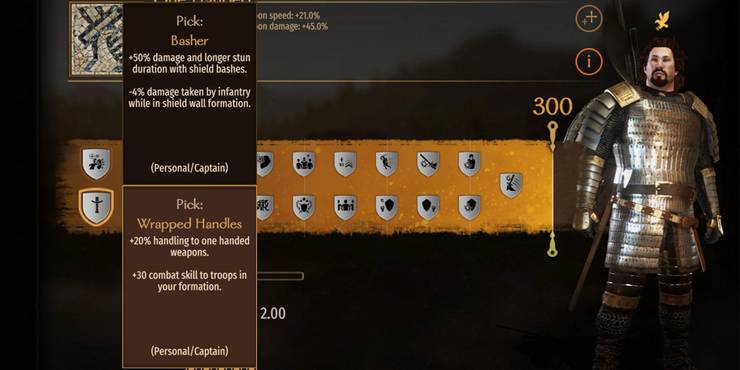 Basher and Wrapped Handles are the first two perks you can choose from in the one-handed tree. Basher improves your shield bash and your infantry's defence if you are the captain of them. Shield bash does so little damage that increasing it by 50% doesn't make much of a difference, and the second bonus can be given to a friend who leads your infantry.
Pros
Cons
Basher

Shield bash now stuns for a longer time.
Infantry damage has been cut down.

Low amount of damage done by the character and the troops

Wrapped Handles

Great change in how well the troops do their jobs
More likely to be able to do momentum attacks and chamber blocks

Beginners may not gain from learning how to handle weapons better.
The Wrapped Handles perk helps your fighting skill more when you use it for yourself. Better weapon handling makes it easier to do advanced moves like momentum attacks and chamber blocking, and it also makes it easier for troops under your direction to fight with one hand.
To Be Blunt
The second one-handed perk comes down to personal choice in the end. Swift Strike makes you faster with all weapons, while To Be Blunt makes your axes and maces do more damage. The extra benefit of these perks is for governors, so your character can't use it.
Pros
Cons
Swift Strike

More force and more control in battle with faster swings

Security is not best when militias are recruited in villages.

To Be Blunt

Best way to face troops with lots of armour
Increase in settlement security in a direct way

Usually, axes and clubs have less range than swords.
If you want to use swords, the best choice is Swift Strike. But if you want to use axes and maces, the best choice is To Be Blunt. But if you want your character's fighting skills to be as good as possible, maces are usually the best type of weapon to use late in the game because they ignore a good amount of enemies' armour.
Cavalry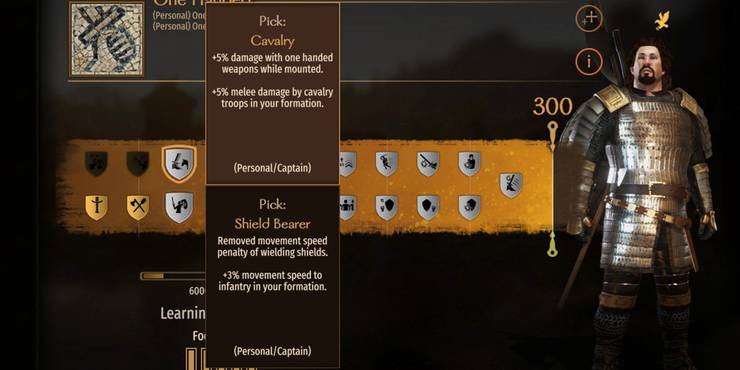 The next perk choice, like the last one, relies on how you like to play. The first choice, Cavalry, increases your damage while horseback, and the second choice, Shield Bearer, increases your speed while on foot.
Pros
Cons
Cavalry

Damage for troops and characters on horses has gone up.
Important advantage for close fighting while mounted

When you ride a horse with a one-handed tool, your horse is more likely to get hurt.

Shield Bearer

The troops will move faster.

The character's movement speed doesn't change at all.
Shielded infantry usually stays in one place and won't gain as much from more movement as other types of units.
So in late-game, larger battles, it's usually best to stay mounted. With better mobility, despite you can move your troops around the battlefield more easily and get out of risky situations quickly.
Trainer
The fourth option in the one-handed tree is a simple perk. The first choice is Duelist, but improves your damage by 20% if you don't have a shield and doubles the renown you get from tournaments. Even with the huge boost to power, not having a shield is still too bad.
Pros
Cons
Duelist

A great choice for early-game fame farming.

If you don't have a cover, your defence is much weaker.

Trainer

Your hit points go up a little.
More quickly improve military

Hit point increases are not powerful enough unless they are paired with other benefits that do the same thing.
Trainer, on the other hand, improves your hit points, which is a useful effect that can be combined with other perks that make you more durable. It also speeds up the rate at which you can upgrade your troops, which is a nice bonus.
Shieldwall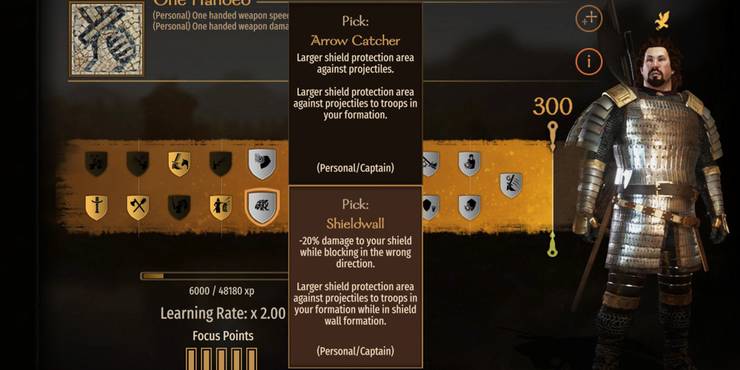 The next few benefits in this skill tree are small, but they can help you in the long run. The Arrow Catcher increases the size of your shield against bullets but gives your troops a small shield size bonus. Arrows aren't likely to hit you while you're holding your shield, so this benefit isn't as useful.
Pros
Cons
Arrow Catcher

Increases the defence of your men, no matter how they are arranged.

When your shield is up, projectiles rarely get past it, so the personal gain isn't worth it.

Shieldwall

Your shield will last longer.
This makes shield walls even better at stopping missiles.

Doesn't hurt your troops unless they are forming a shield wall.
Shieldwall reduces the damage your shield takes if certainly you block in the wrong way and makes your troops' shields bigger. Having a shield that also lasts longer can be more useful in long fights. Despite the second perk at this level is an improved version of the other perk.
Military Tradition
In one-handed perks, the sixth choice is a close one. Your troops gain experience in different ways depending on whether you use Corps-a-corps or Military Traditions. The best choice depends mostly on how you play Flappy Bird game and what is going on at the time.
Pros
Cons
Corps-a-corps

The amount of experience gained by infantry after fights goes up a lot.
Great governor perk for fighting against sieges

Less efficient in times of peace and rest

Military Traditions

Every day, your troops will get passive experience.
Great perk for governors of towns that aren't likely to be attacked.

Corps-a-Corps is not as good at actually training your troops as Corps-a-Corps.
Corps-to-corps can be more useful if you are always at war and certainly move from battle to battle. But Military Traditions is a better choice for most playthroughs because of its passive daily buff.
Lead By Example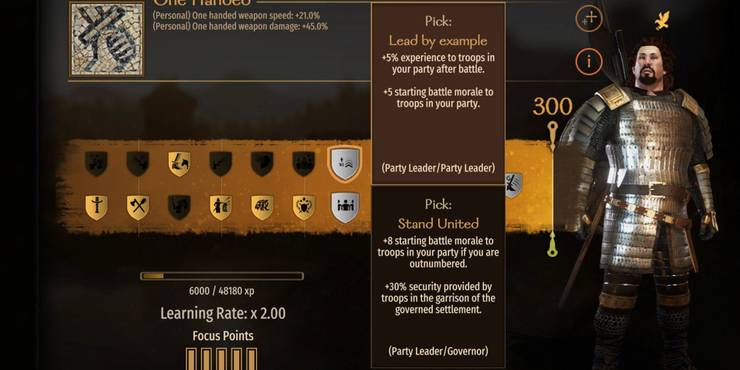 Basically the next option is simple. Even though the second benefit of the Stand United perk doesn't apply to the main character, it does help boost spirit in battle if you are outnumbered. This can be a big help when fighting against a large group.
Pros
Cons
Lead by Example

For the major character, it's better.
Good for training your troops, especially when combined with other perks.

The increase in battle morale is not enough to make a change in how battles turn out.

Stand United

When certain things happen, more confidence is a plus.
Offers a great perk for governors to improve security.

Less good things happen to the main figure.
Lead by Example boosts morale in battle by a smaller amount in every case, but the second benefit also speeds up the rate at which your troops gain experience, which stacks with a few other perks in this tree and lets you improve your infantry much faster.
Fleet Of Foot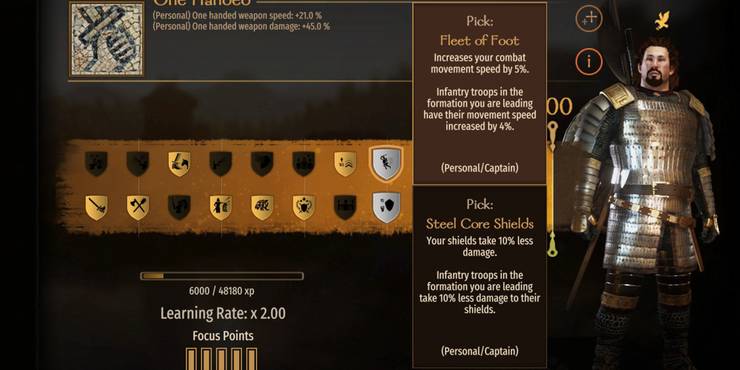 Finally the results of the eighth perk in the one-handed tree are very different. Fleet of Foot makes you and your troops move faster during battle, and Steel Core Shields makes your shields last longer.
| | Pros | Cons |
| --- | --- | --- |
| Fleet of Foot | Great boost to the speed with which the character and troops can move. | Doesn't change the speed of a horse |
| Steel Core Shields | Characters and troops should have shields that last longer. | The perk won't make a difference because battles won't last long enough. |
In Bannerlord, shields are already hard to break, especially if you chose the Shieldwall perk at a lower level. So it's possible that the Steel Core Shields perks go too far and don't do much. Most of the time, faster action can have a much bigger effect.
Unwavering Defense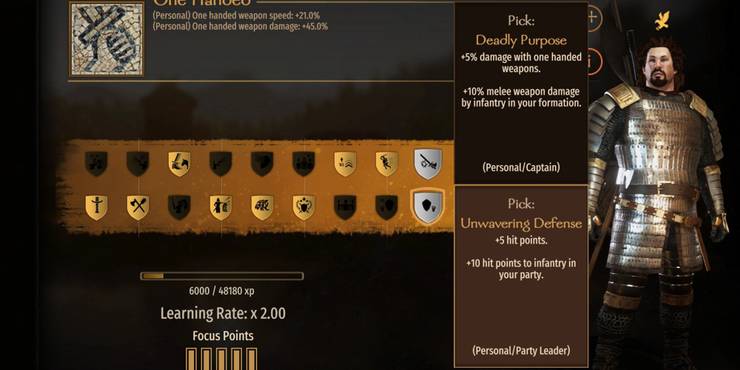 At this level, the Deadly Purpose perk gives you and your troops a big boost to damage, but Unwavering Defence has a better chance of making your army better in the long run.
Pros
Cons
Deadly Purpose

One of the best ways for troops to do more damage.
This word is best for a partner who is a captain.

The rise in damage to yourself isn't as important as Unwavering Defense's bonus to defence.

Unwavering Defense

High bonus to the main character and troops' hit points
Affects all military formations, not just one.

No effect on the amount of damage.
Although this perk gives you five more hit points and gives your foot troops ten more hit points. With some athletics and medicine perks, you can make your character and his or her troops have a lot more hit points. At this point, this makes them stronger and better than most other forces.
Prestige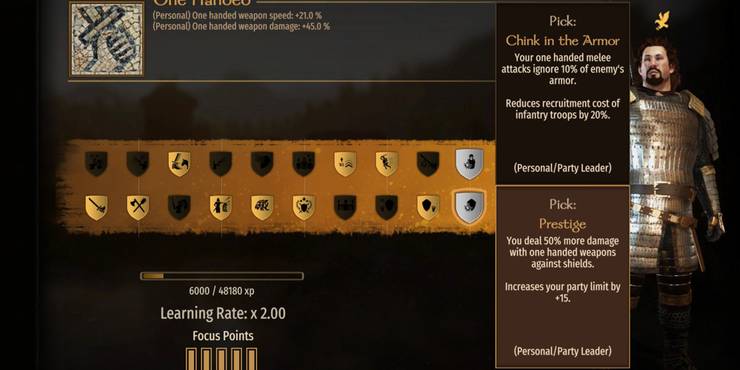 Like every other perk tree, the last perk of the one-handed tree is a single perk, but we get to choose between Chink in the Armour and Prestige for the last perk. Chink in the Armour can be useful if you use maces a lot, but the side effect of Prestige is too good to pass up.
Pros
Cons
Chink in the Armor

A great perk that will help maces do even better.

Once you reach this level, recruitment prices aren't noticeable enough for the second benefit to matter.

Prestige

Your damage against shields gets a big boost.
One of the best perks of having more people in your party is

Only shields get the extra damage.
With prestige, also your damage against shields goes up, and your party size goes up by a huge +15. If you're not doing a special run where you want to keep your party small, the best perk is one that makes your party bigger.